On Jan. 28, 2020, The Jordan Board of Education approved the proposed boundaries for Falcon Ridge, Fox Hollow and Oakcrest Elementary Schools and establishment of boundaries for Antelope Canyon Elementary in West Jordan. The boundary change only impacts unoccupied land in Falcon Ridge Elementary's current boundaries. No current Falcon Ridge students will be impacted. 
If you have questions regarding the final boundaries, please call 801-567-8186.
---
Final Boundary
Below is a link to the map and enrollment projections for final boundary that was approved for the 2020-21 school year.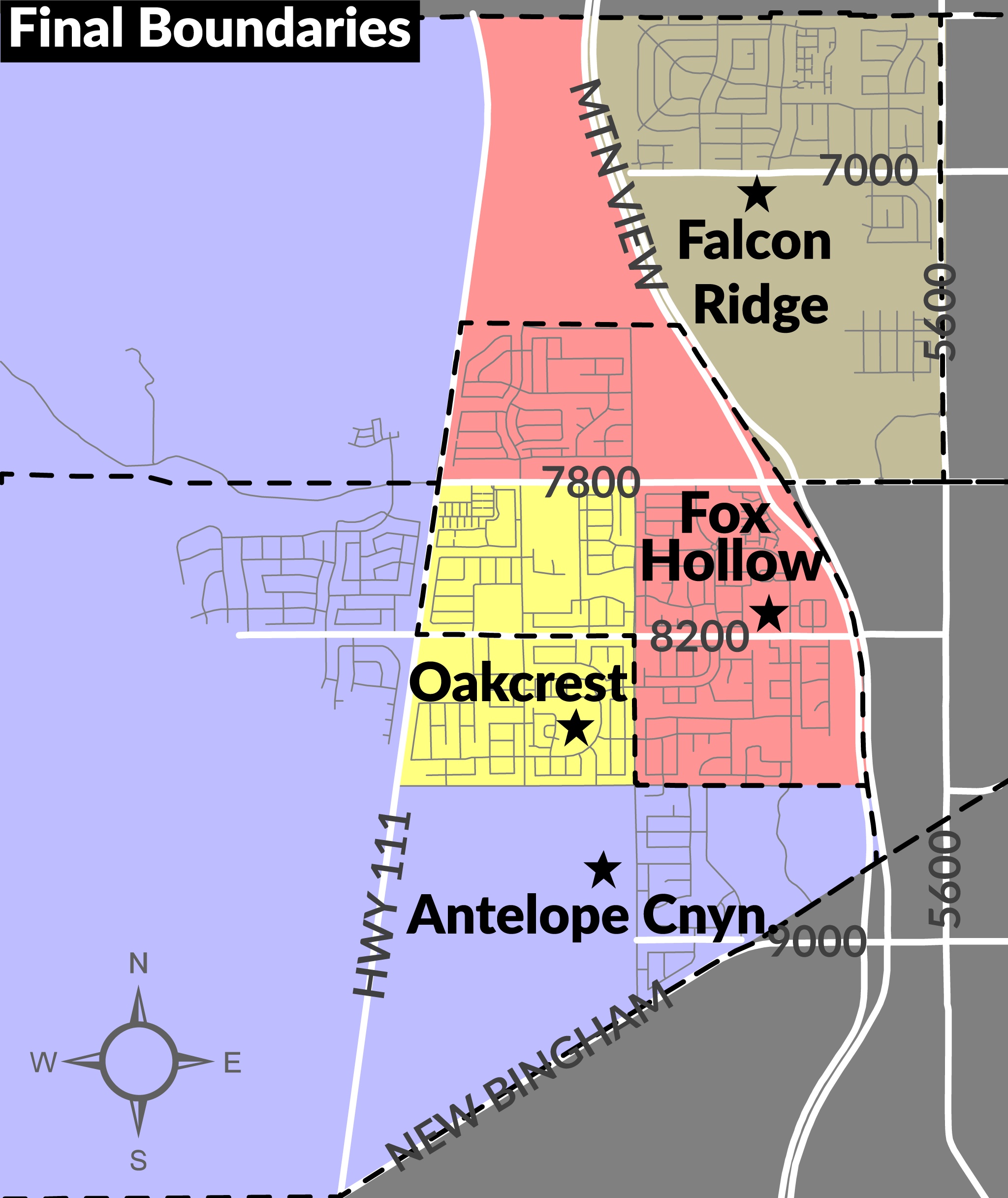 | Enrollment Projections | 2020-21 | 2021-22 | 2022-23 | 2023-24 | 2024-25 | 2025-26 |
| --- | --- | --- | --- | --- | --- | --- |
| Antelope Canyon | 548 | 619 | 657 | 680 | 703 | 700 |
| Falcon Ridge | 763 | 787 | 833 | 855 | 857 | 839 |
| Fox Hollow | 903 | 871 | 853 | 820 | 818 | 776 |
| Oakcrest | 721 | 718 | 722 | 725 | 726 | 719 |
---
Frequently Asked Questions (FAQs)
Q: Will the boundary change allow Fox Hollow Elementary to be on a Traditional Calendar?
A: Yes. Fox Hollow will move to a Traditional Calendar beginning in the 2020-21 school year.
Q: Do the middle school and high school boundaries change under the new proposal?
A: No, the middle school and high school boundaries remain the same from last year's boundary change.

Q: Why was a boundary established for Antelope Canyon Elementary?
A: Antelope Canyon Elementary will open in Fall of 2020 to address increasing growth and enrollment at surrounding elementary schools. Options were proposed that involved establishing a boundary for Antelope Canyon Elementary along with changes to the boundaries of Falcon Ridge, Fox Hollow and Oakcrest elementary schools. This will help manage student growth and balance boundary student population at all four schools.
Q: What was the process and timeline for determining boundaries?
A: Boundary options were developed by District staff and approved by the Board of Education to be surveyed by the public. Here's the timeline:
Oct. 11 - Patron feedback gathered via survey
Oct. 15 - Open House at Oakcrest Elementary
Oct. 17 - Open House at Fox Hollow Elementary
Nov. 10 - Survey closed
Nov. 12 - Summary of patron feedback presented to Board
Nov. 26 - New boundaries tentatively approved by Board
Dec. 10 - Public Hearing
Jan. 28 - Board approved final proposed boundary
Q: What factors were considered in establishing boundaries?
A: Many factors were considered, including, but not limited to, feedback from parents, students, and the community, long-term implications, natural boundaries, feasibility and functionality, student safety, cost, community partnerships, potential growth, and student enrollment numbers over time.
Q: How was the input from my survey used?
A: The feedback provided was carefully reviewed by District staff. A summary report of feedback was reviewed by the Board of Education before a final decision was made. The Board also received a copy of every open-ended response submitted through the survey.
Q: Who will qualify for busing under each boundary option?
A: The District's Transportation Department will begin to establish busing routes for all schools involved. The state of Utah requires that busing be provided for elementary school students who live 1.5 miles or more from school. Busing eligibility for students who are not directly affected by a boundary change would remain the same. Students on an Open Enrollment permit do not qualify for busing except through a space available permit (limited availability depending on location). If you have any questions regarding busing eligibility, please feel free to contact (801) 567-8840.
Q: Will the French Dual Language Immersion Program remain at Fox Hollow Elementary?
A: Yes, there are no plans to change the location of the program.
Q: How will Dual Language Immersion Permits be handled?
A: Dual Language Immersion applicants do not need to apply for a permit but will be placed in DLI according to the following priorities:
Siblings of current participants
Students living within the school's boundary
Students living within the District's boundary
Students living outside the District's boundary
Siblings of DLI participants can receive a permit to attend a DLI school for kindergarten by committing to enroll in the DLI program in first grade. Siblings who do not enroll in DLI can apply for a permit through the regular process.